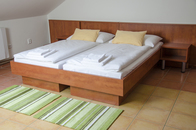 One of the accomodation possiblilities in the EQUITANA Martinice compound is to stay in our cottage. We offer acommodation in 5 suites for 2 to 8 persons.  All the suites are furnished with hotel furniture, kitchenette and comfortable sitting. Your cars can be parked close to the cottage (the space is closed), the garden has own outside seating, you can grill here or sit in front of the fire ring.
After a short reconstruction we got this cottage going at the summer end 2013 and offer a very comfortable acommodation kennly priced.
All of our guests are able to use the hotel services - SPA centre, riding hall, mini golf, bowling, restaurant etc. (additional charge).
Breakfast is served in buffet form in the EQUITANA hotel – 150,- CZK / person.